TRIZ Training

Our TRIZ training
is focused on enhancing analytical thinking and provides checklists and guidelines in
problem formulation
and
problem solving
.
Leading to the set of the best solutions, TRIZ shortens significantly time needed for concept development and problem solving while increasing the quality of the developed ideas.
Bringing real-life problems to the course, the participants benefit not only from learning TRIZ but also from solutions developed to their real-life problems.
TRIZ Consulting offers
the most complete
TRIZ Training program that ends with TRIZ Practitioner Certification.
The classes offered are:
Five-Day Workshop. Begining level. No prerequsites.


Five-Day Workshop. Intermediate level. Prerequsite: Designing Better Products Faster.


Five-Day Workshop. Advanced level. Prerequsite: Advanced Practice TRIZ Course. At the end of the course students are certified as TRIZ Practitioners.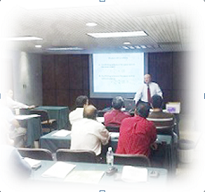 TRIZ Consulting and Facilitation
Our focus in TRIZ
consulting
is to provide you with the most elegant and valuable solutions to your most difficult design and manufacturing problems much faster than they can be obtained by traditional ways.
Publications

Designing Better Products Faster Using the Theory of Inventive Problem Solving
This is the most complete and advanced textbook of TRIZ methods developed in a user-friendly way by Zinovy Royzen, the founder and President of TRIZ Consulting, Inc, the first US TRIZ company. Zinovy Royzen is a leading TRIZ Master, certified by Genrich Altshuller, 1926-1998, the creator of TRIZ.
The textbook provides step-by step guidelines for analysis of the situation and problem formulation,
Tool-Object-Product (TOP)
function modeling, and classifying problems into six classes. It provides step-by step guidelines, checklists and algorithms for solving conflicts or contradictions including the most user friendly version of ARIZ, for harmful action elimination, for building a new sufficient function, for solving measurement problems, for revealing the causes of a failure (TRIZ root cause analysis) and for technological forecast using trends of evolution of technical systems.
The textbook includes many examples and case studies form different industries with detailed solutions. It includes Royzen's TRIZ development based on his experience in applying and teaching TRIZ since 1980 and development of TRIZ method since 1984.
This textbook not only will help you to learn contemporary TRIZ methods but also could be your reliable handbook for problem solving in innovation.