Engineers and project managers involved in search for innovative solutions to their engineering problems would benefit from this 40-hour course covering systematic innovation based on TOP- TRIZ, the most powerful and user friendly modern TRIZ. The power of the methodology is based on generalization of world-wide breakthrough inventions making it quintessential in solving challenging problems, cost reduction, quality improvement, root cause and corrective actions (RCCA), new product development and technology forecasting. This interactive course includes many examples and 22 case studies. Bring your real-life problems for class discussion. TOP-TRIZ users achieved outstanding results and saved hundreds of millions of dollars. Take advantage of TOP-TRIZ to develop better solutions at a lower cost and in less time.
How to reveal an exhaustive list of problems that are worth solving.
TOP-TRIZ list of problems includes the following.
Current problem.
Disadvantage of the known solution to the current problem.
Problems revealed by function analyses.
Problems formulated by analysis of the history of the situation.
Problems formulated by challenging the constraints.
Problem formulated by analysis of the alternative system.
Problem formulated by analysis of the alternative system.
How to solve problems needing innovative solutions.
TOP-TRIZ provides the following checklists or algorithms to solve six classes of problems in innovation.
Revealing the Root Causes of a Failure.
Measurement Problems
Conflict Solving Algorithm
Harmful Action Elimination
Building Sufficient Functions
Technology Forecasting
How to resolve conflicts between product or process parameters routinely and without having to make trade-offs.
In most cases, an improvement of one feature or function affects another feature or function. else. Conflict Solving Algorithm guides to achieve the desired improvement without any deterioration of the conflicting function. Even the most difficult problems with contradictions involved may be routinely solved without having to make trade-offs. For example, a Boeing team struggled with a conflict between two features in the 767-TT design for three years. A trade-off was not applicable, making the problem seem unsolvable. Two solutions, developed through a 4-hour TOP-TRIZ session, were credited by the company for winning 8 orders while saving millions of dollars.
How to invent the best ways to perform functions.
Building Sufficient Functions offers a step-by-step approach to introduce a new function or find a better way to perform a new function. The method is supported by a list of physical fields and effects helping to overcome background limitations of users.
How to eliminate a harmful action.
TOP-TRIZ provides checklists for six Direct Ways to eliminate harmful action and for four ways to turn a harmful action into benefit.
How to maximize utilization of available resources to develop the least expensive solutions.
TOP-TRIZ guides to list, analyze and use available resources of a system with a problem involved, its supersystem and even environment in order to develop the least expensive solutions.
How to handle RCCA much faster than using conventional methods.
TOP-TRIZ guides to identify what happened and why it happened, and then develop the improvements or changes needed to eliminate the problem. It handles RCCA much faster than conventional methods including five whys, fishbone diagrams and brainstorming, especially for problems having multiple causes. The key differences are that, first, we pretend that the failure is a desired result and use TOP-TRIZ Build Sufficient Functions to invent how to produce it using the available resources and then the methodology guides to eliminate the revealed causes using Harmful Action Elimination and/or Conflict Solving Algorithm.

For example, a team had been working for years on revealing the cause of an electric arc inside a fuel pump electrical connector. It took just two hours for a team using TOP-TRIZ to reveal the set of events leading to the failure and determine multiple ways to eliminate the problem completely. Some solutions were patented in US and other countries.
How to reduce the cost of your system without any trade-offs.
TOP-TRIZ provides a checklist for cost reduction. For example, there are 4 different ways to eliminate or substitute an expensive component or its feature. Building Sufficient Functions helps to identify new ways to perform the needed functions.

Conflict Solving Algorithm helps to achieve the desired result without deterioration of anything else. TOP-TRIZ has helped to save hundreds of millions of dollars.
How to make a reliable technology forecasting by inventing the future.
Convention road mapping of innovation of a product usually is based on the past trends of development of the same product and very often is incorrect for long term. TOP-TRIZ technology forecasting is based on a set of trends of evolution of hundreds of products. There is a very high probability that your product will have the same steps in its evolution. TOP-TRIZ will guide you to use these steps and trends for inventing the future of your product.
How to circumvent a competitor's patent.
TOP-TRIZ guides to invent how to achieve the same or a better result using entirely different and all possible ways,
How to use TOP-TRIZ Problem Formulator and Solver software.
TOP-TRIZ Problem Formulator and Solver software is based on the same steps as the training materials. It helps to learn the method faster, guides users in TOP-TRIZ applications, and a great tool to facilitate teams.
How to increase effectiveness of your creative work and achieve outstanding results.
TOP-TRIZ is based on generalization of breakthrough invention. This is why it leads to develop breakthrough solutions. The process helps to overcome preconceived notions, phycological and background barriers and develop winning solutions in less time.
Schedule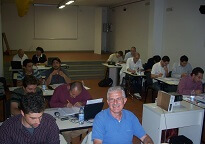 Online
March 30, April 6, 13, 20, 27, May 4, 11, 18, 25, June 1, 2022
Wednesdays, 8:00 AM - 12:00 PM PST
Fee: $5,000 + shipping materials

March 28, April 4, 11, 18, 25, May 2, 9, 16, 23, June 6, 2022
Mondays, 8:00 AM - 12:00 PM UTC+8 -Philippines, Singapore, Malaysia, Taiwan, Australia (Perth), China (Beijing)
Fee: $5,000 + shipping materials
10% discount for three or more participants from the same organization. Workshop materials are included.
Textbook:
Designing and Manufacturing Better Products Faster Using TRIZ by Zinovy Royzen, TRIZ Master
TRIZ Consulting, Inc.,
ISBN: 978-0-9728543-0-6
TOP-TRIZ Problem Formulator and Solver Software:
One year free license ($2,000 value).
Customer Reviews
"I highly recommend Zinovy and his TRIZ offering as it can save your company time and substantial money where innovation and problem solving are required beyond applying standard "every day" typical engineering solutions. Zinovy has continued to develop his methods for applying TRIZ to eliminate common errors and making the process more intuitive/user friendly which makes his approach to TRIZ unique. I highly recommend this training!"
Eric A. Schmidt
Director - Global Manufacturing Engineering & Strategy,
Hyster-Yale Group
"Zinovy is a truly amazing TRIZ educator, inventor, and problem solver. His series of TRIZ classes are the best, most useful, and most interesting classes I've ever taken (and like all engineers I've taken a LOT of classes, and then some). They will make you a much better and more inventive problem solver. Don't let the word 'Theory' in 'Theory of Inventive Problem Solving' fool you; TRIZ is a practical tool for solving all types of engineering, scientific, and business problems. For these reasons, and also because TRIZ Masters are very few and far between, if you have a chance to work with Zinovy, through his classes or through his consulting business, I highly recommend it."
Ross Blanton
P.E., Certified TRIZ Practitioner,
Mechanical Design Engineer, Boeing
"I was first exposed to TRIZ in 1998, as an alternative problem solving method. After studying Altshuller's materials and the TRIZ journal, I took Zinovy's beginning level class in 2000, and pursued the Advanced Practice and the Certified TRIZ Practitioner Course 2014.

Zinovy's course materials include a summary of the methods in his 'TOP-TRIZ Problem Formulator', which contains a TOP-TRIZ Flow Chart, to provide a step by step process flow to problem formulation, classification, solution, and evaluation. This is a handy reference I rely on in my application of TRIZ to both practice and real-world problems.

I was most interested in the application of TRIZ to organizational conflicts and to software development. Although the course examples are focused on technical contradictions, I have been successful in extending Zinovy's analysis approach and TOP (Tool-Object-Product) model to organizational and software development conflicts.

Extending these concepts beyond technical and physical contradictions is an additional level of abstraction, and in my opinion one level more difficult. Zinovy's technical problems in the advanced class provides sufficient practice to abstract the concepts.

I have also applied Zinovy's techniques for the critical evaluation of an immature technology with great success. Using skills honed in the Advanced Practice course, I was able to confirm the conditions exist for a very harmful type of wear, which the company experts had earlier dismissed.

I highly recommend Zinovy's course series to anyone interested in solving difficult, complex, and/or inventive problems, whether they are technical, physical, organizational, or in software development."

Scott Button
PE, MSME, MSEM, Theory of Constraints Jonah
Certified TRIZ Practitioner
Boeing Special Invention Award, 2000, 2008, 2010, 2013
Patents #6,164,477, #6,325,568, #8,581,904, others pending
Associate Technical Fellow, Boeing
"I am completely sold on TRIZ is not the complete solution to working the problems the Agency faces but should be implemented as one of the "tools" available. Out of several TRIZ promoters I have had contact with, Zinovy is the best. His credentials are impeccable. He is also one of the few people I know of who are actively contributing to the science of TRIZ. We are continuing our work with Zinovy with a workshop this week at MSFC. We started this with a couple of training sessions last year with a number of MSFC employees and representatives from industry (vehicle and engine primes). I am convinced that TRIZ is real and could be of significantly benefit to NASA."
Jan C. Monk
Chief Engineer
Marshall Space Flight Center
"I have taken many professional development training courses over my career in science and engineering. I found the Basic TRIZ and Advanced Practice TRIZ courses to be the most useful, the most stimulating, and the most satisfying of these trainings. Although I have only been applying the techniques and algorithms for a few months, I have been able to find new solutions to chronic manufacturing problems in our plant. The process can be used on low tech and high tech levels. I have used the method from simply helping to take cost out of a manufacturing process to developing intellectual property based on new solid state physics.

Two features of TRIZ that I really find to be especially valuable are: 1) The functional analysis process forces you understand what the problem really is on a fundamental level. 2) The TOP TRIZ algorithm is complete. You can't miss what the general solutions are. You can be confident that if a solution to your challenge exists, you will find it."
Peter R. Menge, Ph. D.
Senior Scientist. Saint-Gobain Crystals
"Zinovy Royzen's TRIZ classes teach a very non-intuitive set of approaches to problems. The TRIZ methods allow problems to be seen from many additional viewpoints. That allows many otherwise-impossible problems to be solved. Most classic approaches such as brainstorming or fishbone diagrams result in focus on a particular class of solutions, while ignoring other approaches. TRIZ tools give a high level of confidence that all avenues of possible solutions have been explored. I highly recommend the courses to innovators. "
Mark Lesyna
Lead Engineer, 777x Mechanical & Hydraulic Systems
"I have been introduced to TRIZ first time in 1973 when I read the book "The Innovation Algorithm" written by Genrich Altshuller, a founder of TRIZ methodology. Zinovy was one out of 65 people certified by Genrich Altshuller as TRIZ Masters, and that was why I took an opportunity to go through his basic TRIZ course in 2005. It was a stunning discovery for me, when I found that TOP-TRIZ, enhanced by Zinovy, produced strong technical solutions in far more clear way compared to classical TRIZ. I went through his Advanced Course in 2006 and TRIZ Practitioner Course in 2007. I routinely use TRIZ, developing "out of the box" technical solutions. Working for my company for 20 years I have been awarded with 31 patents, and I believe TRIZ methodology was a significant part of that. I would strongly recommend taking Zinovy's TRIZ course to any innovative individual."
Yury Shkolnikov
Senior Corporate Engineer, Illinois Tool Works
Certified TRIZ Practitioner
"I'm absolutely impressed! The structure of the Standard Techniques is excellent and very clear and logic. I like a lot all the micro-algorithms and excellent worksheets which make the book very "hands-on". Also the many examples and exercises are very good. I wish I discovered this book 5 years earlier."
Karel Bolckmans
"I found your Designing and Manufacturing Better Products Faster Using TRIZ course stimulating and interesting. I found your approach very rigorous - I am now a fan of your TOP approach versus S fields!! Also your function analysis piece is stronger than other TRIZ courses I have been at."
Barry Winkless
Altran Technologies, Ireland
"I have attended hundreds of hours of technical and facilitation training over the past 12 years, and I would rate Zinovy's five-day TRIZ class as being in the top three best for his excellent organization and presentation of material. Zinovy's training materials and approach bring clarity and simplicity to a topic that has been "clouded" by 56 years of evolution and differing opinion on how to apply TRIZ. His course workbook is one of the best I have seen for enabling an attendee to apply what they have learned after the training. His subject expertise comes through clearly in the numerous examples he uses from his personal experience with TRIZ. I have read various TRIZ books and articles and seen presentations on TRIZ from other sources and quite frankly, until I attended Zinovy's class, I was confused about many aspects of TRIZ.

Zinovy's five-day course "Designing and Manufacturing Better Products Faster Using TRIZ" answered all of my questions in a way that is systematic, practical and does not require special computer software to perform.

When I was asking around for a useful TRIZ class to attend, Leslie Enerson of Bobcat Company told me that "If you just want a warm fuzzy feeling about how good TRIZ can be, you can attend just about anyone's class, but if you want to actually be able to do something with what you learn, the only class to attend is Zinovy's." I am sending this email to my friends to tell that she was absolutely right! I give it the strongest possible recommendation for anyone working in applied research and development, product or process engineering and design, manufacturing process improvement or problem solving in any industry or discipline. It was one of the most useful problem solving courses, and one of the most well organized training courses I have attended during my 20 years in engineering and manufacturing.

TRIZ would provide excellent support for enterprise wide programs, such as Lean Manufacturing or Six Sigma."
Steven L. Holcomb
Newport News Shipbuilding Sector, Northrop Grumman
"I am so glad that I attended your class in Seattle, Washington. I have been following the TRIZ development for some time. I like the way you conducting your teaching and more importantly. I also think that you made good contribution on developing TRIZ towards an exact science.
Your TOP (Tool-Object-Product) model is much cleaner than original substance-field model for functions, and based on this new model of functions, you can actually reduce the number of standard solutions, and make those solutions more independent from subject-of-matter knowledge. This is a 'trimming of unnecessary functions' of original TRIZ, make it more coherent and easier to use. Also, this new model for functions are very compatible with other commonly used function definitions of other field, such as value engineering, axiomatic design. So eventually, it will make TRIZ easier to be integrated with other methods.
Thank you again!"
Kai Yang, Ph.D.
Associate Professor, Industrial and Manufacturing Engineering Department
Wayne State University
"Dear Mr. Royzen,

Congratulations on rating among the top 10 percent of more than 200 short course instructors from industry, government and academia who lectured for UCLA Extension last year! The data was recently complied from our performance evaluations for fiscal year 1998/1999.

Because UCLA Extension serves a public audience, we placed a strong emphasis on the teaching skills of our instructors. This is especially important in our computer science, engineering and technical management short courses where participants come from all over U.S. and abroad to gain important insights into state-of-the-art technology and methodology. Since industry professionals look to academic institutions to provide such insight, we greatly appreciate your assistance in meeting the challenge. Thank you again for this impressive performance, and I look forward to working with you in the future."
William R. Goodin, Ph.D.
Manager, Short Course Program
University of California, Los Angeles